Miniature Pigs for Sale - HOME of LITTLE PIGS
Our Micro Mini Piglets are 9 weeks old, socialized and potty trained. There are 4 boys and 1 little girl available and can be shipped coast to coast in time for Christmas. Many people ask what its like to have a pet Micro Mini Pig? Imagine a 3 year old child in a pig suit and you've got it. Having one of our miniature piglets, either a Micro Mini or a Toy Teacup, for your pet is like adding a new member to the family. If you are ready to add a pig baby to your family, see if you would like to take home one of our little ones. We currently have Baby Micro Mini Pigs and Toy Teacup Pigs for you to choose from.
Where do Toy Teacup Potbelly Pigs fit in with Other Small Breeds of Miniature Pet Pigs. These very small pigs have been selectively bred from the Vietnamese Potbelly Pig over many years to produce a small pig which matures at 18 - 25 lbs. and under a foot tall. Because of their small size, intelligence, friendly dispositions and great personalities Toy Teacup Pigs are the perfect pig for a house pet. Our Toy Teacup Piglets are 4 weeks old and can be shipped coast to coast in time for Christmas or you can pick one up at the farm. I know you are going to love these amazing little pigs as much as we do! As always, we strive to make your miniature pig ownership journey a worry-free experience.
Call 850.348.9928 or email mailto:bddunham@littlepigs.mysite.com
We now have Toy Teacup Potbelly Piglets. Ready to ship for Christmas!
Click Micro Mini Piglets to make your deposit now - All credit cards accepted through PayPal
WHAT'S IT LIKE TO OWN A MICRO MINI PIG?
by Barbara Dunham
As a breeder of Micro Mini Pigs and Toy Teacup Potbelly Pigs, my priority is to produce quality, healthy miniature piglets. It is also my goal to provide excellent customer service and make the process of becoming a new pig parent as smooth as possible.
Becoming the owner of a micro mini, or Toy teacup potbelly piglet requires a commitment to gain the animal's trust, which can be done with a little patience, by offering food rewards for good behavior, along with scratching and petting. Belly rubs go a long way in bonding with a mini pig. Since a mini pig will become very bonded to their owner, if they have to be placed elsewhere. Your micro mini pig or teacup potbelly pig should be with you hopefully for a lifetime.
Micro Mini Potbelly piglets will grow to an average of between 25-45 pounds with proper feeding and care, a fraction of the size of the larger traditional Potbelly Pig. Mature Micro Miniature Potbelly Pigs are 12-14" from hoof to shoulder, about the height of a stout medium size dog. Toy Teacup potbelly piglets mature at about 25 pounds and usually under 12" tall. Toy Teacup pigs and Micro Mini Pigs are the smallest of the miniature potbelly breeds.
PRICES AND SHIPPING DETAILS
Prices for Toy Teacup piglets usually range between $300 - $500 and Micro Mini Piglets are usually $300-$350, based on size and sex. Shipping is extra and available within the continental U.S. The cost to ship a piglet is $345 and includes airfare, taxes, kennel, veterinary services (health certificate, laboratory tests, identifying tattoo, vaccination, de-worming) & state entry permit.
Optional Neutering a male piglet is $175 and optional spaying a female piglet is $240. You may have the piglet neutered or spayed prior to shipping or can elect to have your veterinarian perform the surgery. Whether it's done before or after shipping, we strongly recommend neutering all pet pigs, male and female. An unaltered male will grow tusks, become aggressive, and exhibit a musky odor. Females who are not spayed have a monthly menstrual cycle and may develop PMS-like symptoms. Also, spayed females have a lower chance of developing mammary tumors and ovarian cancer as they get older.
Every Mini or Toy Teacup Piglet purchased from us comes with our one-year Health Guarantee which covers congenital fatality during the first year with you.
We do not inbreed or hold back on food to get the small size. In fact, our breeders are overfed that so they produce plenty of milk for the babies, and the babies develop correctly.

Our baby micro mini pigs and Toy teacup pigs get their needle teeth clipped, are given an iron shot, and have their navel strings dipped in Iodine when they are one day old. The moms are all vaccinated while they are pregnant so they can have healthy babies. Our baby pigs are given a CDT vaccination at 6-8 weeks of age. There is debate as to the need to be vaccinated for other farm hog diseases and the general consensus is unless you live in a area where farm hogs are located, other vaccinations are not necessary. This is something you should talk over with your vet as some vaccinations can cause more harm than good.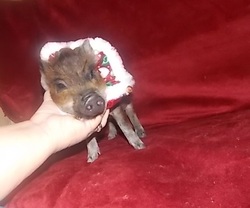 Both Micro Mini Pigs and Toy Teacup Pigs make excellent house pets and devoted companions. My piglets are raised to be inside pets. Piglets that will be shipped are potty trained and in-home socialized prior to leaving home. *Please check with your zoning authority where you live to make sure you are allowed to own a piglet.
Quality Florida Breeder of Teacup and Mini Potbelly Pigs pot belly pig tea cup pig baby piglets swine pet pig pig training caring for a pig pig ownership pig parents miniature pig piglets pigs for sale in florida teacup pigs for sale in florida teacup pigs for sale mini pigs for sale in florida mini pigs for sale small pig black pig pink pig female pig male pig exotic pet small mammals livestock farm animals micro nano pixie juliana extreme pigs
This is a video showing our ToyTeacup babies born Nov. 5, 2013